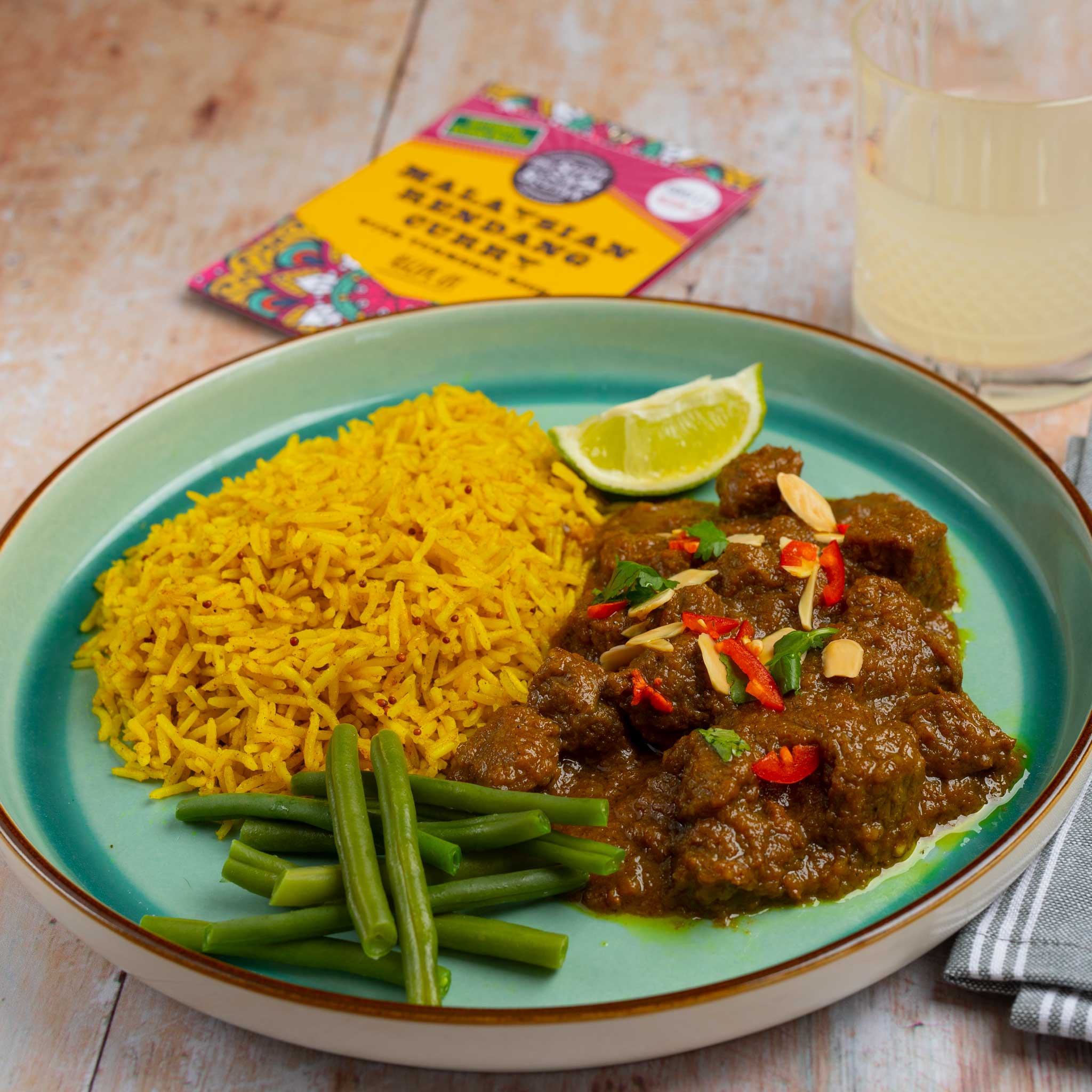 MALAYSIAN RENDANG CURRY WITH TURMERIC RICE
Cook & discover delicious meals with our freshly ground spice blends and easy step by step recipes!
Here at The Spice Sultan we take the quality of our spice blends as seriously as the convenience and flavours of our meals. Spices go stale quickly when exposed to the atmosphere. That's why our premium spices are freshly ground, hand-blended in small batches, and instantly sealed into sachets to preserve fragrance.

Our products make cooking easy and fun! Each kit contains two perfectly measured spice blend sachets to create a tasty main meal and side dish or condiment. Our blends contain up to 18 different spices….that's a lot of spicy know how!
It's so easy to cook with our meal kits. Simply prepare a handful of fresh ingredients listed on each packet and you're all set to cook and discover tasty and healthy meals at home to feed 2/3 people. Each kit comes with a detailed step by step recipe meaning that people with even the most basic of cooking skills can enjoy creating restaurant quality meals at home.
Hey, why not cook it your way…
Meat or plant based - Choose from our optional step by step recipes enclosed within each packet.
Low fat - We highlight low fat ingredient options on each shopping list (see back of each packet).
Adapt - simply substitute ingredients or adapt our recipes to suit your dietary needs. 
More plus points..
Optional vegan recipes
Gluten free, sugar free, and dairy free
100% natural ingredients – free from artificial additives & preservatives
Slimming club friendly
Easy step by step recipes
Travel around the world with our range of authentic spice kits and get inspired to cook delicious meals at home! Check out our bundle savers here!
Meal description
A delicious Malaysian curry made with creamy coconut milk. Its distinctive taste comes from fragrant spices which include cardamom, star anise and cumin, combined with flavours of kaffir lime and tamarind. We serve with turmeric rice on the side.
PREP: 15 MINS
COOK: 2½ HOURS     COOK VEGAN: 35 MINS
SERVES: 2/3 PEOPLE
KIT INGREDIENTRENTS:
RENDANG BLEND: cumin, turmeric, chilli powder, tamarind, coriander, galangal, ginger, cinnamon, cardamom, star anise, cloves, kaffir lime leaf.
TURMERIC RICE BLEND: black mustard seeds, onion powder, turmeric, ginger, asafoetida, cinnamon.
Allergens highlighted in bold
 YOUR SHOPPING LIST:
450g stewing beef or

350g plain tofu

2 medium red onions
4 fat cloves garlic
Thumb size piece ginger
1 lime
400ml tin coconut milk*
200g jasmine rice
*low fat options available
FROM YOUR STORE-CUPBOARD:
Cooking oil/low calorie spray, 1 ½ tsp brown sugar/sweetener, 1 tbsp soy sauce, 1 vegetable stock cube (x2 vegan option)
Happy Cooking! 
IT STARTED WITH A BACKPACK
Growing up as a foodie meant that the opportunity to travel not only gave me the chance for adventure, but also the means to discover more about authentic cooking! Before setting off with my backpack, I worked as a chef in the famous Thali Café – a quirky restaurant renowned for serving delicious Indian street food in the festival fields including Glastonbury. This is where my passion for spice-based cooking really began. My travels took me to some amazing food markets all over the world, and I remember being overwhelmed by the vibrant mix of colourful spices piled high in large vats, and mouth-watering aromas of street food being cooked.
I spent time with locals around the world determined to unlock the secrets behind authentic spice-based cooking, keeping a carefully guarded diary full of scribbled down spice blend recipes!
Upon returning from a spice trail which included India, South East Asia, and North Africa, I began recreating those special blends which I had discovered on my travels, using just a small Indian spice grinder in my home kitchen.
After impressing family and friends with my spice-based cooking, the next step was to sell the blends and their accompanying recipes at local food markets. With further encouragement from customers, I went ahead with branding the spice packs using the vibrant colours I vividly recalled from the spice stalls on my travels…….and so The Spice Sultan was born! Today my range of world spice kits gives people the chance to cook the same food which I discovered on my backpacking adventures.
Happy cooking!
David
Customer Reviews
100
reviewers would recommend this product
Write a Review
01/29/2023
Anonymous

United Kingdom
I recommend this product
Goan fish curry
Bought three curry mixes, rendang, goan fish and Sri Lankan. Have previously tried Sri Lankan. Goan fish was very tasty, maybe better with prawns so will try that next time. Have not tried rendang yet. Sri Lankan remains a firm favourite so far. Fast delivery, all posted through letterbox.
11/14/2022
Michelle K.

United Kingdom
I recommend this product
Very authentic
Everything was very well explained and the flavours were delicious
02/07/2022
Anonymous

United Kingdom
I recommend this product
goan fish curry
its beautiful. ive had a few different ones and enjoyed them all. thank you
10/07/2021
ian d.

United Kingdom
I recommend this product
rendang mix
excellent mix. really enoyed both the rendang and the turmeric rice
06/21/2021
Victor B.

United Kingdom
I recommend this product
Beef Rendang
Really easy to use and follow instructions. Best Rendang I have tasted.