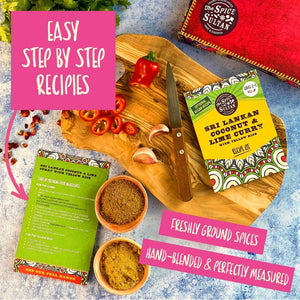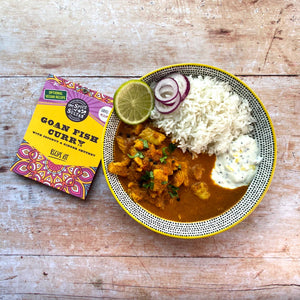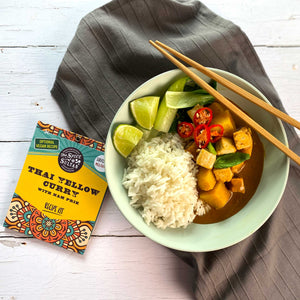 WORLD EXPLORER - SAVER 4 PACK - WOWCHER
This selection pack is perfect for those of you who haven't tried The Spice Sultan meal kits before. You'll get the chance to cook and discover different cuisines from around the world and put our spice kits to the test! Pack includes:
1 x Sri Lankan Coconut & Lime Curry with Yellow Rice
1 x Moroccan Tagine with Rose Petal Harissa
1 x Goan Fish Curry with Coconut & Ginger Chutney
1 x Thai Yellow Curry with Nam Prik.
Remember, all our meal kits have optional vegan recipes and are suitable for those on a weight loss journey. Happy Cooking!

IT STARTED WITH A BACKPACK
Growing up as a foodie meant that the opportunity to travel not only gave me the chance for adventure, but also the means to discover more about authentic cooking! Before setting off with my backpack, I worked as a chef in the famous Thali Café – a quirky restaurant renowned for serving delicious Indian street food in the festival fields including Glastonbury. This is where my passion for spice-based cooking really began. My travels took me to some amazing food markets all over the world, and I remember being overwhelmed by the vibrant mix of colourful spices piled high in large vats, and mouth-watering aromas of street food being cooked.
I spent time with locals around the world determined to unlock the secrets behind authentic spice-based cooking, keeping a carefully guarded diary full of scribbled down spice blend recipes!
Upon returning from a spice trail which included India, South East Asia, and North Africa, I began recreating those special blends which I had discovered on my travels, using just a small Indian spice grinder in my home kitchen.
After impressing family and friends with my spice-based cooking, the next step was to sell the blends and their accompanying recipes at local food markets. With further encouragement from customers, I went ahead with branding the spice packs using the vibrant colours I vividly recalled from the spice stalls on my travels…….and so The Spice Sultan was born! Today my range of world spice kits gives people the chance to cook the same food which I discovered on my backpacking adventures.
Happy cooking!
David
Customer Reviews
I recommend this product
Fantastic curry kits
I have made the Thai Yellow Curry so far and the taste is fantastic. So authentic I was in Curry heaven.
05/03/2021
Anonymous

United Kingdom
I recommend this product
World Explorer
Excellent. Most impressed that they phoned me as I hadn't used my voucher to get discount.
05/02/2021
Anonymous

United Kingdom
I recommend this product
Spice pack
Really pleased with the choice and quality of the items